MEMS 8x8 Matrix Optical Switch
DiCon's MEMS 8x8 is an integrated switch module based on DiCon's MEMS 1x8 Optical Switch components. Sixteen MEMS 1x8 switches, eight for inputs and the other eight for outputs, are interconnected to form a fully non-blocking, two stage, optical cross-connect. Under this matrix switch platform, different MEMS 1xN switches can be used to form customized MxN Optical Switch Matrices.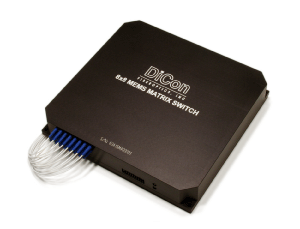 Applications
The MEMS 8x8 Matrix is used in an optical network to dynamically configure the system. Mounting to any network card is easily achieved with its small form factor and 1" thickness. For Test and Measurement applications, the matrix switch is a simplified alternative solution for fiber management and allows users to share resources.
Electrical

Housing Dimensions