VOA - MUX/DMUX Modules
DiCon's VOA-MUX/DMUX (VMUX) Modules are passive modules for multiplexing and demultiplexing up to eight bands or 100 GHz channels with integrated power equalization. VMUX modules independently equalize power levels in each channel or band using DiCon's MEMS Attenuator (VOA) and integrated (PIN) photodiodes. VMUXes are a low cost alternative to external Dynamic Gain Equalizers.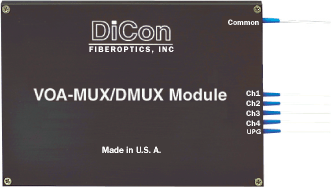 Applications:
VMUX Modules are ideally suited for all MUX applications which require per band or per channel power equalization. For MUX applications, they provide pre-emphasis after terminal equipment transmitters. For DMUX applications they provide optical level automatic gain control in front of terminal equipment receivers. VMUX Modules can also be used to equalize the Add side of OADMs.
Specifications:1,2