VX500 1XN Optical Switch
DiCon's VX500 1×N Optical Switch offers accurate connection of one or two input fiber channels to a maximum of 50 output fiber channels. The 1×N switch is available in simplex and duplex configurations. The VX500 1XN Optical Switch is available in compact housings with 16, 32, or 50 maximum channels. The housings are designed for mounting on printed circuit boards or within enclosures. DiCon's VX500 1xN Optical Switch can be built with Corning SMF-28, Flexcor 1060 or Polarization Maintaining Panda fiber.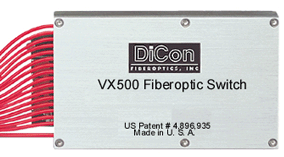 Applications:
Applications for 1×N switches include component testing and measurement, remote fiber test systems, and fiber network monitoring. Simplex 1×N switches have one input aligned to one of N outputs. The components switch in one-channel increaments. Duplex 1×N switches have two inputs aligned to two ouptputs. They switch in two-channel increments.

Features:
Very low insertion loss
Low back-reflection
Compact housings with up to 50 channels
Parallel TTL interface
Flexible fiber types and wavelength ranges
Pin Assignment