Precision Variable Attenuator
DiCon's Precision Variable Attenuator is a
TTL-driven component which sets attenuation levels in the 0 to 30 dB range with superior repeatability and absolute accuracy. The attenuation level is set using a high-precision motor with either the I2C standard interface or a proprietary Step-Up/Step-Down interface.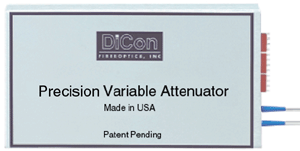 Applications:
Precision Variable Attenuators can be used to adjust the power level in automated test systems. Applications include bit error rate testing of transmitters and receivers as well as channel equalization in testing of WDM systems.
Housing Dimensions