MEMS On-Off Optical Switch
DiCon's MEMS On-Off Optical Switch is based on a micro-electro-mechanical system (MEMS) chip. The MEMS chip consists of an electrically movable mirror on a silicon support. A voltage applied to the chip causes the mirror to rotate, which changes the coupling of light between the input and output fibers of the MEMS On-Off Optical Switch.

Optical Specifications 1, 2
Electrical Specifications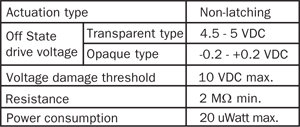 Housing Dimensions
Cylindrical Package

14-pin DIP Package


Features:
Small On-Off Optical Switch package
Ultra low current consumption
Available in opaque or transparent versions
Qualified to GR-1221
Available in both cylindrical and 14-Pin DIP package
Applications:
MEMS On-Off Optical Switches are used for distributed power equalization within OADMs, MUX/DMUXes, Band Equalizers, Channel Equalizers, Optical Cross-Connects, Line Cards and Transponders. MEMS On-Off Optical Switches can also be used for gain tilt and input power adjustment in erbium-doped fiber amplifiers.
Ordering Information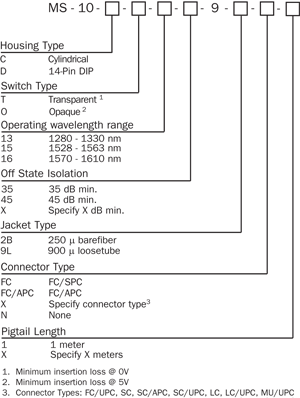 SCD 0046 Rev D