Dual Window Broadband Coupler
DiCon's Dual Window Broadband Coupler is a compact low loss singlemode component designed for splitting power signals in the 1550 nm and 1310 nm windows.

Features:
Low insertion loss
Low PDL
Low wavelength dependence loss
Tested to Telecordia GR-1221 (bare fiber version)
Applications:
Dual Window Broadband Couplers are designed for use in telecommunication equipment, CATV networks, and test equipment. These components are available individually or integrated into DiCon's modules for fiber protection switching, MUX/DMUX, optical channel monitoring, and add/drop multiplexing applications.
Specifications1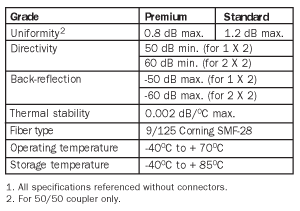 Coupling Ration Table