WDM/ Detector
DiCon's WDM/Detector is a hybrid component that integrates a WDM with a high sensitivity PIN photodiode for power monitoring applications. Hybrid WDM/Detectors minimize integration costs and module size by combining two functions in one package.

Applications:
WDM/Detectors are designed for power monitoring in WDM systems. WDM/Detectors eliminate the need for splicing together separate WDMs and pigtailed photodiodes.
Housing Dimensions

Units: mm
1. Optional 13 mm PIN length by request.
Specifications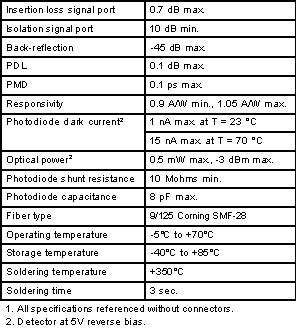 Features:
Ultra-flat, broadband spectral response
Integrates WDM and power monitoring functions
Available as single component or array module
Low insertion loss